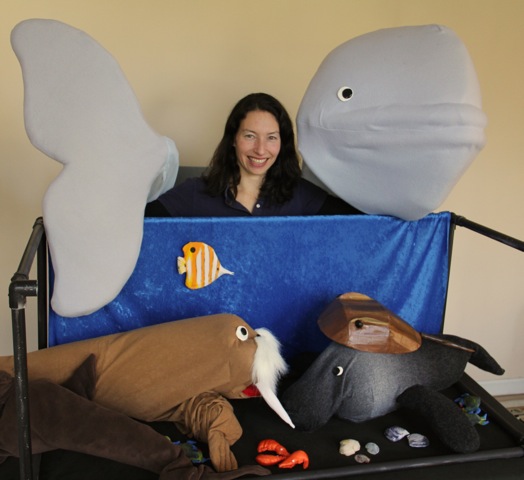 It's the aquarium that comes to you! As part of this musical puppet show you'll meet lots of creatures that live in the sea, including a walrus, a seahorse, a giant beluga whale, and many more. The show brings to life Massachusetts science standards for Pre-K through 2nd grade. Whimsical songs by acclaimed children's musician Brent Holmes.

Teachers at Cushman-Scott Family Center say:

"Thanks for putting on such a great show! It might be my favorite so far."

"The kids got to learn about sea life in a fun, musical way with good visuals. And those songs were catchy!"

"The captivating songs and puppets got the kids engaged in a way they might not otherwise be."


Fairies of the Seasons (NEW SHOW!)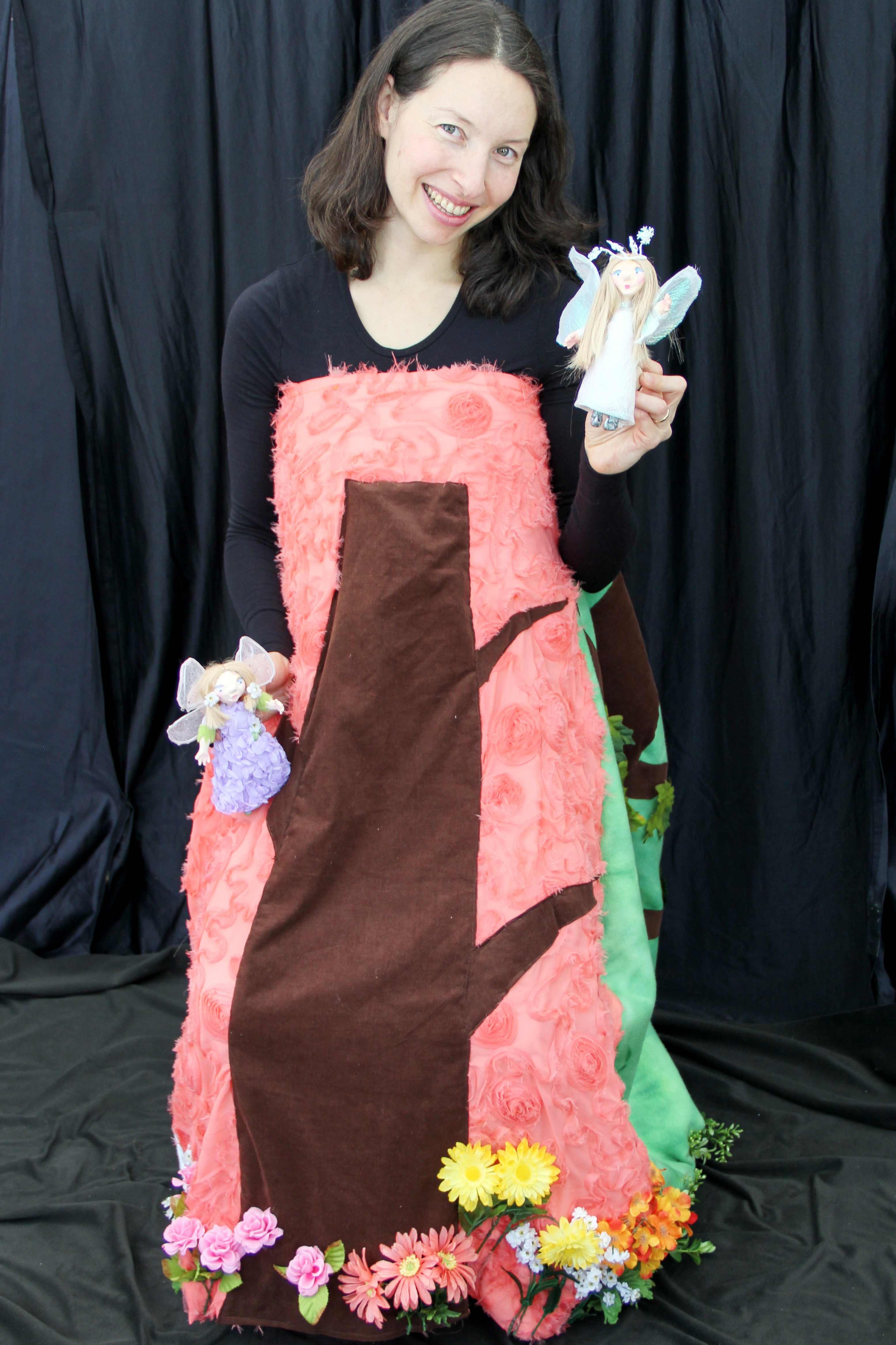 Every season has unique qualities: the trees look different, different kinds of plants are growing, and people wear and do different things. In this magical show, set on a handmade dress that twirls as the year turns, each season has its own fairy that takes care of changing the natural world accordingly. That is, until a grumpy gnome decides to rearrange all the season fairies so things will stay the same all year round! Beautiful handmade fairy puppets and hand-felted animals invite young children to move, sing, and help the fairies of each season as they try find their way back. Recommended for ages 2-7.
Two Dinosaurs Are Better Than One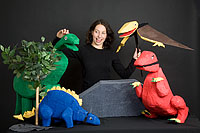 Meet different kinds of dinosaurs from the Jurassic Era, and find out what the dinosaurs plan to do about that big carnivore, Allosaurus, who is pushing else everyone around! Catchy, original songs and bright tabletop puppets make this a favorite with preschoolers.
Bookworm and the Barefoot Books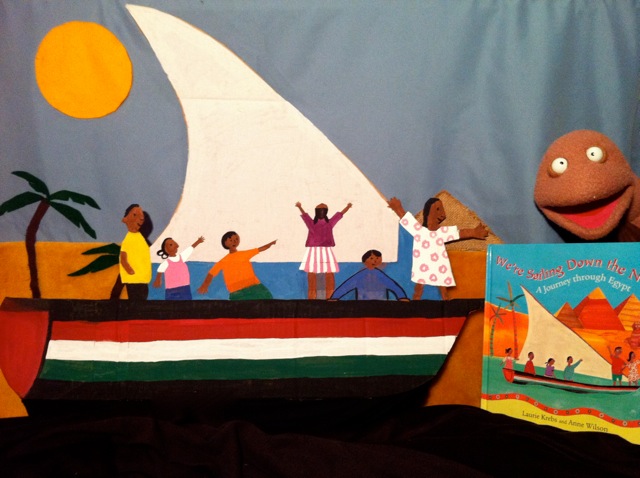 Bookworm loves to read, but Fly Guy thinks he'll have more adventures than his buddy if he just "buzzes around the neighborhood." Bookworm proves him wrong with four completely different adventures, based on four books published by Barefoot Books: they visit Egypt in We're Sailing Down the Nile by Laurie Krebs and Anne Wilson, dance with jungle animals in Animal Boogie by Debbie Harter, meet a cool princess in The Kite Princess by Juliet Clare Bell, and sing a song about a pirate's journey in Port Side Pirates by Oscar Seaworthy. This show is interactive and fun for all ages.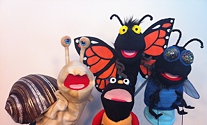 New for spring 2013! Some people think creepy crawlies are just plain gross. But if you look closely, every bug in your garden has a song to sing about the special job it does to help plants grow. Learn more about why it's important to keep bugs alive and eat and garden organically. Beautiful bug puppets and catchy, interactive songs in a range of styles round out this fun and educational show. Recommended for ages 2-8.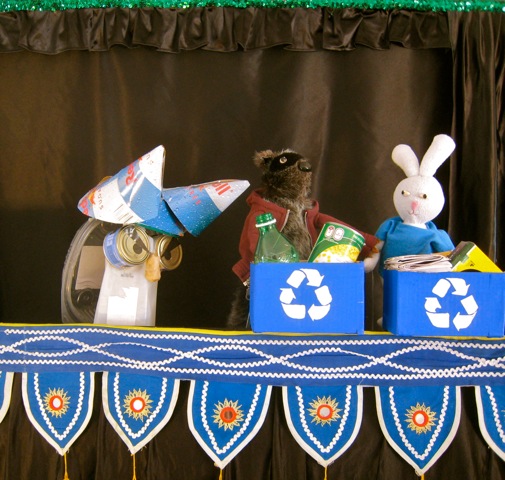 Kids can change the world! Ruby Raccoon and Benny Bunny are little superheroes in training. In order to win their superpowers, they'll have to prove that they're super fearless, super helpful, and want to save the world.
This show includes information about ways kids can help protect our environment, such as planting a tree and recycling. Appropriate for ages 2-8.
They call him Fraidy Freddy, and that's because he's scared of just about everything. But when his owners are out for the evening, Freddy meets the Boogie Monster, who turns out to be friendly and sings like Elvis. Freddy goes out to explore the city. His adventures include an underground tour with an alligator, and a dog who asks him the time.
Through audience participation, kids help Freddy realize there's nothing to be afraid of. This show has been well received at hospitals and preschools throughout New England and New York. The show now also includes an optional live music component.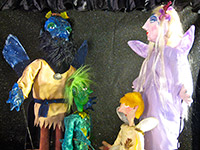 What better way to introduce Shakespeare than with puppets?
Talking Hands Theatre retains the humor and beauty of the original text, but adapts the language to make it accessible to middle school audiences. Our handmade rod and hand puppets will captivate and win over everyone.
They'll be clamoring to read "A Midsummer Night's Dream" for themselves the moment the show's over. Recommended for grades 3-8.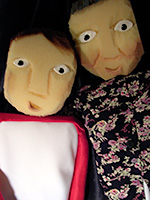 Josh has a school project to do. When he goes next door to interview his neighbor about his seeing-eye dog, Josh doesn't realize that the dog is not a pet.
He makes a lot of mistakes, but he learns the right way to treat service animals. He'll meet a hearing cat as well, and in the end of the show, he'll meet a very surprising animal that is trained to help people with physical disabilities.
This show is fun and informative about service animals and disabilities. All ages.
Big Daddy Z and the Greeks (Ages 7-14)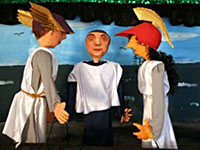 Get down with the Greeks! Talking Hands Theatre presents the myths of ancient Greece with a hip-hop flavor. Meet Big Daddy Z, the father of the Greek gods. Muppet-style puppets narrate in rap. Hand-sculpted rod puppets tell the myth of Persephone and the reason for seasons, Pandora's box and how evil first came into the world, and the story of Medusa, the monster with snakes for hair. Geared for 3rd grade and up.
The Princess Who Escaped From Pirates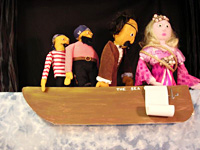 At first, even a little frog disgusts Princess Ida, but by the time she sneaks out of the palace and manages to escape from some very silly pirates, this is not a girl to mess with! By the end, she will even face a dragon to rescue the prince she loves. Recommended for pre-K through 3rd grade.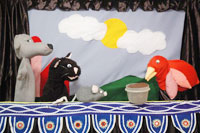 Cluck, cluck, cluck. Who will help the little red hen plant her grain? Not Bowser the dog, not Mittens the cat, not Sniffles the mouse. They all have unusually silly things they'd rather be doing!
This interactive show includes a sing-a-long, perfect for the preschool set.
How the Elephant Got Its Trunk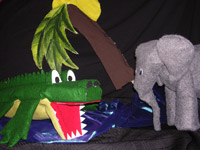 The elephant's child is always asking questions. One day he wants to know what the crocodile eats for dinner, but neither his aunt ostrich, his cousin hippo, or his uncle monkey will tell him.
So he goes down to the banks of the Great, Grey-Green Greasy Limpopo River to find out from the crocodile himself, and the reward for his curiosity turns out to be a blessing in disguise.
Based on the story by Rudyard Kipling and set in Africa, this show is accompanied by live African percussion.
Appropriate for all ages.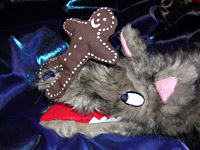 A treat for children of all faiths, at holiday time or during the year. In this twist on the classic story, the gingerbread man jumps out of the pan and runs away from the old couple who baked him, a chicken named Henny Penny, a cool cat he calls Catty Splatty, and meets up with a fox at the river.
This cookie doesn't crumble, though - the story has a happy ending! Everyone can sing along and help the Gingerbread Man "Run, run, as fast as you can!"